Your soul is calling. I can help you to follow your highest path Kundalini Yoga for soul growth and Kundalini Goddess Ceremonies in Hastings, Eastbourne & Brighton – East Sussex & Hitchin – Hertfordshire. Glastonbury Goddess women's retreats for deep healing & transformation.
KUNDALINI GODDESS
Be Part of the Goddess Movement
I hold Kundalini Goddess ceremonies and retreats which allow you to awaken and connect with the goddess within, through kundalini activation and divine feminine healing. Kundalini activation elevates and expands your spirit. It allows you to heal your energy, past experiences and limiting beliefs by connecting you to your high self, strengthening your intuition and developing your self awareness.  The goddess, divine feminine energy calls you into a sacred self-care practise and new, softer, harmonious way of being. The Goddess energy calls us to open to self-love, it asks us to trust and to be patient with ourselves. It opens you to receive the wisdom from within, from above and below. Kundalini Goddess ceremonies and retreats will increase your self-esteem and help you to create a new mindset which is intuitive, nurturing, empowering, creative and joyful.
Read on to find out how Kundalini Goddess can help you to heal, awaken and transform to your fullest potential.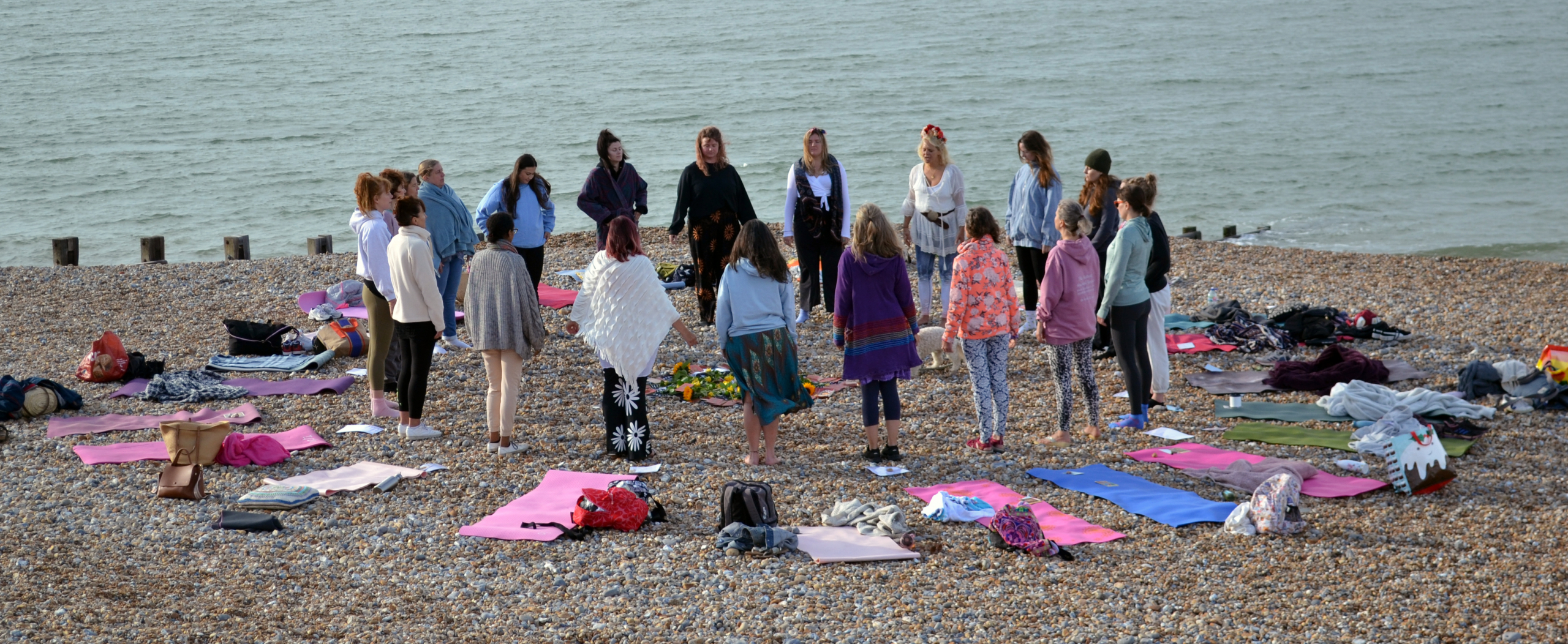 Change Your World with Kundalini Yoga and Meditation
Love Deeper, Connect Deeper, Shine Brighter
I'm a trained Kundalini Yoga and Meditation teacher specialising in soul growth. I help seekers to find more peace and fulfilment in their lives by awakening them to their soul power. Two areas of my expertise are in healing the heart and self-love. I am deeply passionate about Kundalini Yoga because of the gateway it opens. If you're ready to commit, it can take you on a life-changing journey of deep healing, growth, fulfilment and purpose through self-awareness and spiritual connection.
During my 5 years of teaching, I have fusioned divine alchemy with traditional practises of Kundalini Yoga to create my own unique signature offering of spiritual growth, healing, empowerment and transformation. I teach weekly Kundalini classes in East Sussex and Online. I also facilitate Moon Ceremonies and Kundalini Goddess Ceremonies with in Hitchin, Herts. I moved from Hertfordshire to East Sussex in summer 2020, so have two vibrant communities in growth.
Heal to Uncover Your Soul Truth and Life Purpose with Kundalini Yoga and Meditation
About Me & How I Can Help You.
I am a channel of divine source energy, my sessions are intuitively lead and will give your body, mind and spirit exactly what it needs. I will teach you nourishing practises and tools to help you reclaim your energy and align with your truth. During these challenging times with are experiencing intense feelings and we are being called to live from our hearts, not our heads. As a result anxiety, fear, anger, fatigue and confusion may be preventing you from moving forward and living your best lives. Kundalini yoga will bring your mind, body, soul and spirit into harmony. You deserve to be happy and you deserve to feel loved, valued and special, most importantly, because you are special!
Now is the time to step forward and reclaim your soul power!
New and Full Moon Ceremonies
I am currently holding new and full moon ceremonies online via zoom. Connect with the divine feminine energy of the moon to awaken your goddess energy within. Ignite your wisdom, intuition and your power to create and manifest all that you want in your live. Suitable for  all levels I facilitate a sacred space for you to connect with yourself deeply. We are a supportive group of women who come together to heal, align, reset and release. Each ceremony comprises of movement, breathwork, mantra, meditation, ritual and intention setting. View Upcoming Events. This is a chance for you to nurture YOU! I help you to develop self love, and compassion so that you can learn to feed your soul all that it needs and desires.
Kundalini Yoga and Meditation is one of the Best Self Care Practices
Self Care is not a luxury. It is the new currency. It is how you can navigate through these challenging times more effectively, joyfully, peacefully with more power and more success. Kundalini Yoga and Meditation nurtures your soul. It ignites your passions. It allows your heart to heal and open. Have you been saying you really want to start but you keep finding an excuse? Change this and Say YES! Take ownership of your physical, mental and spiritual well being TODAY.
Kundalini Yoga & Meditation Classes and Private Sessions
Kundalini Yoga has changed my life and it can change yours to.  The practise of Kundalini Yoga is fast and effective. By working with your energy you can change your mood and feel great in a few minutes.  Declutter your mind and move into your heart. I can offer intimate group sessions either from my yoga home studio or I can travel to you within the Stevenage, Hitchin, Letchworth, Hertfordshire county.  I am also available on zoom. I love working with people who really want to change something in their lives. By working in small groups or in private sessions I am really able to offer bespoke and intuitive teachings that are designed to heal and empower.
Are you ready to feel great? 
"It was so healing and healthy just to unplug and charge up with like minded souls on what really matters. So nourishing." Kathy, student. 
What is Kundalini Yoga?
Known as the yoga of self-awareness, in Kundalini Yoga and Meditation we work with a combination of posture, eye focus, breath, mantra, meditation and intention to create a powerful and effective system of personal development and self-transformation. Often described as a process of "awakening," by reaching a heightened consciousness, you can begin to unpick the layers of your personality to reveal your truth and reach your soul purpose.
Working with our energetic centres (chakras), Kundalini Yoga is an impressive technique that works quickly to improve your health, physical and mental well-being. Practicing Kundalini Yoga and Meditation helps us to work through and release emotional blocks, stress and past trauma that is stored in our bodies. It is a fast and effective way to shake up your entire human psyche.
In this fast paced life, our souls are craving inner peace. In my classes we will work to restore our inner harmony. All you need is the will and an open mind!